C.S.A. Lithograph Plating Service
Philatelic Bibliopole
Leonard H. Hartmann
Plating of the C.S.A.
Lithograph General Issues
---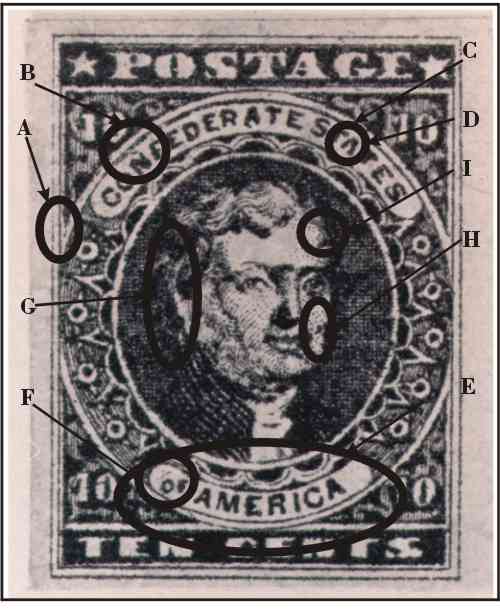 A plating and thus:1H>
Authentication service for the CSA Lithographs General Issues.
No. 1, 5¢ Green Lithograph

Stone A or B, service not available
Stone 1
Stone 2

No. 2, 10 ¢ Blue Lithograph

Hoyer & Ludwig
J.T. Paterson
Stone Y, service not available but is coming soon, see below

No. 3, 2¢ Green Lithograph
No. 4, 5¢ Blue Lithograph

Stone 2
Stone 2, Plate X Misplaced Transfer
Stone 3

No. 5, 10¢ Rose Lithograph

Hoyer & Ludwig
Shaken Transfers, may or may not give opinion
Special Offer, No. 2, Stone Y, multiples of 3 and larger, will examine for a limited time for no charge except return transit, if I have not previously examined the item.
The fee schedule is in proportion to the time required and difficulty for an average plating and not by the traditional value of the item; if simple I win, if hard you win. I am also deliberately discouraging the submittal of single and pairs of stamps in extremely poor condition. For such material a proper opinion can take a tremendous amount of time.
If an item can not be plated there is no charge except for the return transit. One used strip of four in superb condition and extremely well printed was plated in error by an expert in the 1960's and took me over 30 years to figure it out. It may be a CHRONICLE article one day. At times they are not so easy!
Charges Per Item
Single or Pair of Stamps, poor condition, $45.00
Single or Pair of Stamps, vf or better condition, $30.00
Multiply of three and larger, poor condition $35.00
Multiple of three and larger, vf or better condition, $25.00
Misplaced Transfers, $45.00
In all cases plus return transit and insurance by the means you request.
Reduced rates for multiple items submitted at one time.
Turn around, circa 10 days
Remarks on condition and value will not be made as the purpose of this study is identification and study.
Transit, all item will be returned in the same manner that it is sent. At present for expensive material we suggest Federal Express or Registered Mail.
A signed certificate with a high resolution image on an engraved letter head will be issued for each item.
CSA CHRONICLE articles
Return to: PB Home Page
---
Philatelic Bibliopole
PO Box 36006, Louisville, Ky 40233, USA
A quick e mail to: Leonard
Fax 502, 459-8538, Phone 502, 451-0317
---