A most welcome book, the rates and usages are much more complex than one would expect 2010, 98 pages, in color with many cards illustrated, card bound, an edition of only 200 copies, $65.00
2nd edition, edited by J. Summers, 3rd edition by Dan Undersander
Foreign Postal Stationery
Guide to the Postal Stationery of Iraq
by Clayton Rubec and Akthem Al-Manaseer,
Covers the issues from 1863 to 2015, RPSL, 2016, 110 pages, card, published at 25 £ plus 9 to 15 £ postage, $47.50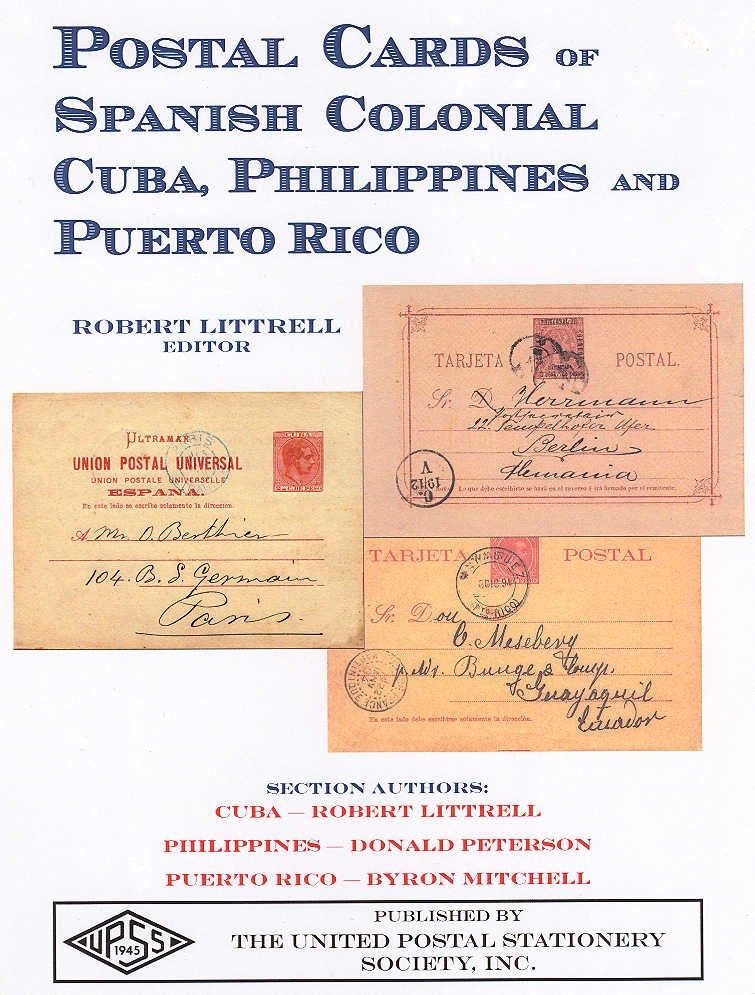 Postal Cards of Spanish Colonial Cuba, Philippines and Puerto Rico
edited by Robert Littrell
The Spanish period for these issues, 1878 through 1898. The Cuba section also covers significant postal rate changes. 2010, 127-page in color, card $59.00.
Higgins & Gage World Postal Stationery Catalog
The H&G is the most recent World Wide catalog. The World is covered alphabetically, Vol 7 is G and it covers Germany and Great Britain. The first year given is the publication date of the current edition and the second year is that of a Pricing Supplement. The book format is loose-leaf, 5.5 x 8.5 inches.

The below individual prices are the last published prices and are given only as a reference, these book are rarely available but when available they sell for more, if we have one it is so noted with the current price..
Vol 1/A, 2nd ed, 1977, 1982, not available, $18.75
supplement labeled 1982 listing update
supplement labeled 1982 pricing supp
Vol 2/B, 2nd ed, 1977, 1986 pricing supp, not available, $19.00
Vol 3/C, 2nd ed, 1974, not available,$20.25
Vol 4/D, 1st ed, 1966, 1981 pricing supp, not available,$7.75
Vol 5/E, 1st ed, 1966, 1982 pricing supp, not available,$6.00
Vol 6/F, 1st ed, 1967, 1978 pricing supp, not available,$9.50, one copy $16.50, sold
Vol 7,G, 2nd ed, 1976, 1986 pricing supp,not available, $35.50
Vol 8,H, 1st ed, 1967, 1981 pricing supp, not available,$7.50
Vol 9,I, 1st ed, 1968, 1990 pricing supp, not available,$20.25
Vol 10,JK,1st ed, 1968, 1978 pricing supp, not available,$8.75
Vol 11,L, 1st ed, 1968, 1980 pricing supp, not available,$6.50
Vol 12,M, 1st ed, 1969, 1979 pricing supp, not available,$15.75
Vol 13,NO,1st ed, 1969, 1980 pricing supp, not available,$13.00
Vol 14,PQ,1st ed, 1969, 1981 pricing supp, not available, $12.50
Vol 15,R, 1st ed, 1970, 1982 pricing supp, not available,$14.50
Vol 16,S, 1st ed, 1971, not available,$19.25
Vol 17,T, 1st ed, 1972, 1981 pricing supp,not available, $8.50
Vol 18,U, 1st ed, 1974, 1984 pricing supp, not available,$9.00
Vol 19,VZ,1st ed, 1974, 1984 pricing supp,not available,$10.50
Used set, when available, original binders $400.00 sold
Binder, these are 3 ring not one of the early 5 ring type, limited stock, $8.00 each
The Postal Stationery of the Bechuanalands and Botswana by Peter Thy and John Inglefield-Watson covers the stationery, proofs and essays from 1886 to 1997, published by the British Philatelic Trust, originally at £50 but now reduced by the Bechuanalands & Botswana Society to £20 plus transit, for copies purchased before June 2008 there is a first year membership included, 2004, 184 pages, hard bound, $62.50
Danish Postal Stationery by S. Ringström Denmark, Danish West Indies, Schleswig and Iceland from 1871 to 1984. 1985, 218 pages, cloth, each listing is priced $20.00, sold out
Postal Stationery of the Philippines, US Administration 1898-1946 1983, 56 pages plus 8 page price supplement, card, $9.50
The Postal Stationery of the Canal Zone by Blessington and Schwartz 1985, 68 pages plus 6 page price supplement, card, $10.00
Postal Stationary Monographs by Paulo Sa Machado, Catalogo dt Inteiros Postais Limited edition monographs, numbered and autographed
Macau, 1986, 36 pages, card, $17.50
Companhia de Mocambique, 1984, 27 pages, card, $15.00
Australia, Aerogrammes of Australia and its Dependencies 1944-1980 by Stein 1985, 188 pages, cloth, $20.00
Australia, Victoria Postal Stationery 1869-1917 by Carl L. Stieg An excellent descriptive and priced catalog of Victoria, Australia, 2001, 219 pages, plastic prong binding, $50.00
Belgian Colonies Postal Stationery by E. Norman Lurch Listing starts with the Congo Free State in 1886 through the Belgian Congo in 1908, Occupation of German East Africa, etc. to Katanga in 1960. Large map enclosed, also an acetate overlay for the 1910 overprints. 1989, 64 pages, card cover, autographed, sold out
France, Nomenclature des Entiers Postaux Officiels de France et de Monaco by Jean-François Brun, priced catalog of France & Monaco postal stationery. 1986, 56 pages, card, in French but well illustrated, $9.50
The Comprehensive India States Postal Stationery Listing by Edward F. Deschl Covers the 28 Feudal States and 6 Convention States. 1994, 323 pages, cloth, sold out
British Indian Postal Stationery by Derek Lang A wonderful replacement for the awkward four volume set by the same author that appeared between 1978 and 1984, updated, consolidated and more attractive. From the Stuart Rossiter Trust Fund, 1998, 222 pages, card, published £25 plus transit, $75.00
Indian Military Air Letter Cards 1942-47 by O. R. J. Lee Published by the Forces Postal History Society in GB. 1985, 76 pages plus 21 plates, card, $27.50
Paraguay, Postal Stationery Catalog by Joseph Hahn, Raymond Todd and Bill Walton Mostly pre 1950 material but some items to date., Brian Moorhouse, Mainsheet Special Edition No. 3 2003, 40 pages, card, £8, $13.00
Catalogue of the Postal Stationery of Peru by Herbert H. Moll A priced specialized catalog from the UPSS covering envelopes, postal cards, letter cards, wrappers in addition to the view card issues. 1999, 100+ pages, wire bound, limited edition, $20.00
Russia, Catalogue of Propaganda-Advertising Postal Cards of the U.S.S.R. 1927-1934 by G. V. Shalimoff and G. B. Shaw, edited by Jean R. Walton The book is in English with translations of all Russian text on the postal cards into English. For additional information Russian Propaganda 2002, 300 pages, wire spiral binding, $70.00
Order Form
Return to PB Home Page
---
Philatelic Bibliopole
PO Box 36006, Louisville, Ky 40233, USA
A quick e mail to: